New Moon Cherry  (2S 28-28), was registered in 1996 under the name of Sumini . The variety was obtained by the Summerland experimental station, located in Canada. The origin of this variety is unknown. It appears as Sumini in the varietal record in the EU, with the rights to obtain until 2026.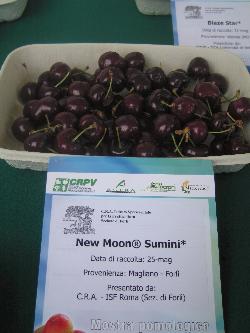 Curiosities: New Moon is a quite unknown variety nowadays. The first experimental tests were done in Aragón. A plantation made in 1993 on SL64 at the rate of 400 trees / Ha, samples average production of cherries close to 25 tons / ha. Very high production comparable to 75% of Lapins. Despite the high productivity, New Moon managed to get good calibers with a ripeness date well ahead of Lapins (-12 days).
Characteristics of the New Moon cherry variety
Flowering: The variety of Cherry New Moon, requires cross-pollination, being a self-sterile variety. Sumini is flowering tempana (during the last week of March). New Moon belongs to Group IV pollinators, among others, can pollinate it Lapins (Group IX ), Sweetheart (Group III).
Maturation: New Moon has medium maturation, 12 days after of Burlat.
Productivity: The variety of Cherry New Moon, has productivity very good. Studies show a potential production of 25 tons per hectare, very similar to Sunburst and Santina.
Vigor and carriage of the tree: New Moon Cherry, is of medium vigor and has a semi-erect . These characteristics can facilitate training pruning.
New Moon cherry, morphological characteristics
Size: New Moon cherry, despite its high production capacity, has a size medium-thick. As it matures, New Moon reaches a size of 27-28 mm.
Form: The variety of cherry New Moon has reniform shape.
Skin color: Sumini cherries have a garnet color. This color is very attractive to consumers and is well valued by the markets.
Pulp Color: New Moon has the color pulp Red.
Taste: The variety of Cherry New Moon or Sumini, is a variety of taste good, sweet and pleasant.
Firmness: New Moon cherries, are firm. This feature provides a better post-harvest endurance and allows for better transportation.
Its attractive color, good flavor, firmness and size, together with its high productivity, low susceptibility to cracking, medium-early maturation etc … Make this cherry a very interesting variety for early areas, which can combine high yields with good selling prices .
Cracked Resistance: New Moon cherry variety has good crack, cracking or split resistance.
Cracked area.
Peduncle length: Sumini, has the peduncle short.
Drop the peduncle at maturity. Classified among the varieties of cherry without tail or of the type "picota", this is another important factor to improve your profitability.
Positive aspects: High productivity and fruit size. Release the peduncle.
Negative aspects: Requires pollinators.
Recommended reading
If you have considered interesting our publication on Cherry New Moon or Sumini. On our website, you can find interesting information about multiple cherry varieties. I take this opportunity to recommend the following readings:
All varieties of Cerezo.
Tips for a cherry plantation.
Warning
A significant part of the information, comes from Spanish research organizations. The behavior of cherry tree varieties may be different depending on the growing place.